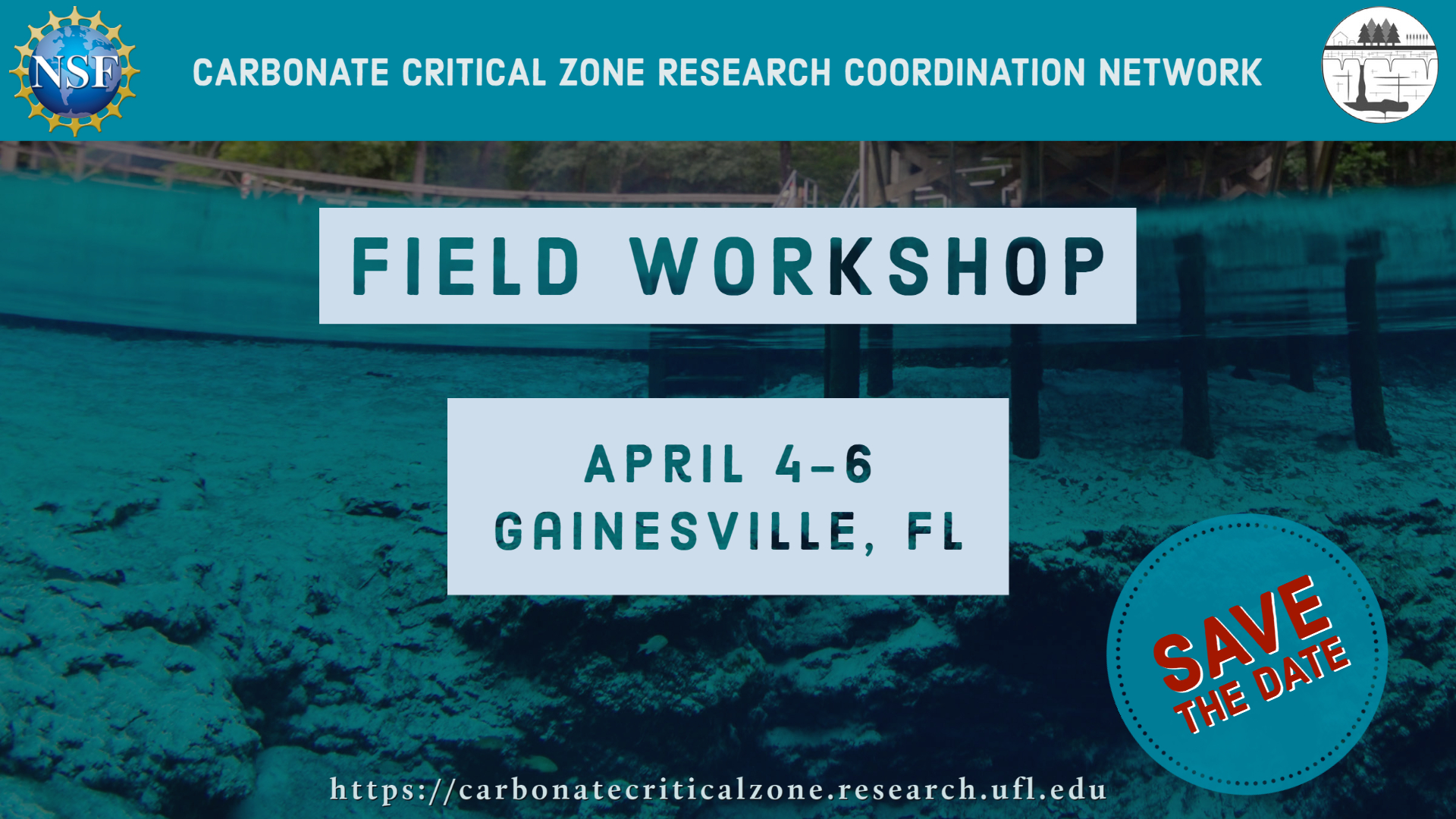 Currently we plan to hold the workshop in-person. The Workshop is open to all who wish to participate and no registration fee will be charged. Some participant support is available through NSF and will be distributed to ensure a diverse range of disciplines, topics of interest, career stage, and demographics, but preference will be given to Working Group participants.
Workshop Objectives
Working Groups in-person discussions

Cross pollination between Working Groups

Networking

Training in field equipment and data tools

Field trip
Expected Outcomes
Data tools

White papers

Peer-reviewed publications

Seed ideas for proposal development

Stronger collaboration relationships

Diversified Network  
Sunday April 3 – Arrive Gainesville, FL
19:00 - 21:00 - Evening meet and greet event
Monday April 4
08:30 – 09:00 - Welcome and introduction to workshop
09:00 - 10: 45 - Plenary Session - Introduction to activities, Logistics and housekeeping 
10:30 - 10: 45 - Break/network (Meet someone new!)
10:45 - 12:00 - Working group discussions: Identify goals for WGs, both short term (at this workshop) and long term (remainder of the RCN)
12:00 -13:30 - Lunch
13:30 - 15:00 - WG discussions continue
15:00 - 15:15 - Break/network
15:15 - 17:00 - Plenary session: DEI presentations and discussion (Dr. Anita Marshall and Dr. René Price)
18:30 - Dinner (on your own)
Tuesday April 5
08:00 - Meet for field trip; transportation to field trip stops will be provided.
Stop 1 – Harvey Sharron Bat Cave; explore Floridan Aquifer
Stop 2 – Ichetucknee Head Springs – picnic lunch
Stop 3 – Santa Fe River Sink – Rise
17:00 - Return to base
18:30 - Dinner banquet & Invited speaker Dr. Kenny Broad 
Wednesday April 6
08:30 – 09:00 - Plenary - State of the art presentations by WG leaders (What has been accomplished at this workshop? What are goals and approaches going forward?
09:00 -10:30 - Breakout groups - Mix WG participants: Look for overlap and synergies between WG themes
10:30 -10:45 - Break/network
10:45-12:00 - Reconvene original WGs: Revise plans for WG activities given new ideas from other WG
12:00 -13:30 - Lunch
13:30 -15:00 - Continue with original WG: Develop strategy for continuing WG activities post workshop & assign tasks to WG participants
15:00 – on: continue WG meetings as needed. Travel to airport to catch flights.
Workshop information and logistics
The workshop has no registration fee and some participant costs (travel, lodging, meals) will be reimbursed (amount TBD) with support provided by the National Science Foundation.

The nearest airport is Gainesville Regional (GNV), about a 15 minute drive from the hotel and University.

Participants will be housed at the Holiday Inn.
Meeting rooms are located at the Reitz Union, about a ten minute walk from the hotel. Shuttle accommodations between the hotel and meeting rooms will be available.
COVID-19 Statement
The success of this workshop requires free and simple exchange of ideas, a difficult task for virtual meetings.  Consequently, the workshop will take place in person, with no (or limited) capacity for hybrid connections.  The workshop conveners will assess the COVID threat risk based on national and Florida caseloads and if deemed too high, the meeting will be postponed.  That decision will be made and announced in mid-February approximately six weeks prior to the workshop.
Participation in the workshop will require proof of complete vaccination and a negative COVID test taken no more than 48 hours prior to the start of the workshop.